No matter the theme or era of your model railroad, adding N scale buildings are essential for incorporating character and realism. The structures and buildings that you'll be adding into your layout should be considered during the planning phase of building your model train layout.
They are one of the best elements in a layout to tell its story, along with vehicles, figurines, and the backdrop. When adding buildings to your N scale layout, you should make sure that they are consistent with the setting you want. Even the smallest details that you include should make sense within the world of the layout.
To help guide you during this step of the planning process, here are 10 stunning N scale buildings ranging from run down buildings to Christmas buildings!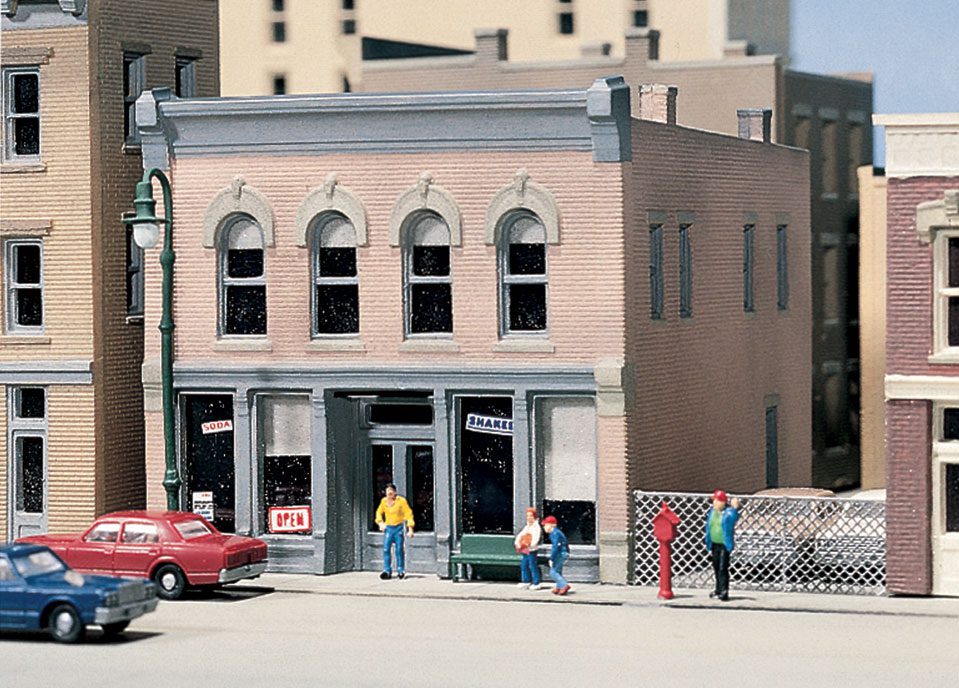 Above is an image of Char's Soda Shoppe, which is part of an N scale kit. It only includes the building, which has weathered walls, windows, and chimneys. If you look closely, you can even see a bit of dirt on those windows. What brings the building to life are the decals on the windows. It's not included in this kit, but you can find printable or downloadable decals online.
2. Kato N Scale Broadcast Building
This is a bit different compared to the previous image. It's not as busy with fewer elements present. However, it makes up for it with the number of details on the building itself.
Specifically, you should notice the decals that can be seen on almost every floor of the building, plus the one on the side. The modeler designed it with just enough decals so it's not too much. If you plan on making Kato N scale buildings, this is a good example of how to add just enough details.
3. N Scale Industrial Building
Now if you decide on adding aged buildings to your layout, this industrial building or factory is one of the best inspirations you can get. Check out the blackened walls and the windows at the bottom that are covered in bricks.
That reveals a lot about the history of this building. At the same time, this N scale factory building is plain enough so that it can exist in different eras and locations.
4. N Scale Christmas Buildings
The buildings of your layout can also be designed to depict a specific theme or season. Here is an N scale set in a Christmas village. The most obvious elements that show this are the Christmas trees sprinkled with fake snow. But the buildings also give off a festive mood thanks to their variety of colors.
5. N Scale Flat Buildings
N scale houses and structures don't have to be three dimensional to be realistic. Proving this is this image of N scale flat buildings above.
It does look flat and fake if you look close enough. But from afar, they look as real as a photo of a city. This is because of the arrangement of the buildings which gives an illusion of space. This type of backdrop looks best on 4×8 N scale track plans.
6. N Scale Run Down Building
Similar to the industrial building, these run down buildings were carefully designed to look as if they had been around for a very long time. Along the side of the building, you can see overgrown plants climbing up the wall. At the bottom of the front of the building, there's even a "Condemned Do Not Enter" sign. Due to its smaller size, it's ideal for 2×4 N scale layouts.
7. Modern N Scale Buildings
The complete opposite of the run down and industrial buildings are these modern n scale buildings. One of the finest Kato buildings in N scale, it has a lot of elements that make it look like sleek metropolitan structure.
There are storefronts at the bottom, and there are even windows where we can see escalators inside, just to name a few.
8. N Scale British Buildings
To ensure that your buildings are consistent with the era and location you want, you have to do some research. Learn about your chosen setting's architecture.
The modeler of this layout seemed to have a clear image of what they wanted, which are N gauge village buildings set somewhere in Great Britain. The bricked structure, the chimney, and the aged roof all contribute to this.
9. N Scale City Buildings
While focusing on individual buildings is important, you should also be able to see the bigger picture. This wide shot of city buildings shows how the modeler put a lot of thought in the placement and variety of the buildings.
Like any city around the world, there should be plenty of variety in terms of design and architecture. Ideally for a 3×6 N scale layout, the building details here are amazing, and something that any modeler should aspire to achieve.
10. N Scale 3D Building
One way to build your N scale buildings is to 3D print them. The person who created the 3D printed building above offers to print your own custom buildings based on images. N scale 3D printable buildings may not be as satisfying as creating them with your own hands, but it makes up for it in precision.
Want to learn more about model train buildings? Read this article about HO Scale Buildings.