Using HO scale track plans for shelf layouts, you can enjoy model trains without needing to devote entire rooms to the pursuit of model trains. Although HO is not the smallest scale, it's ideal for maximum enjoyment with limited space.
Before viewing some of the best track plans, let's first clarify the meaning of HO scale and why it's best for shelf layout track plans. HO stands for half-O scale, and HO is 1:87 scale from real trains. It's popular for shelf layouts since the train and track pieces are small without losing too much detail.
Why Choose an HO Scale Shelf Layout Track Plan?
HO scale track plans for shelf layouts require significantly less space than some other plan options. You do not need a dedicated room to have a model train building hobby, and you can still have numerous options for building and operating sessions.
HO Scale Shelf Layout Track Plan for Switching Layout
This industrial switch layout is suitable for 10' by 1'3" shelves, which is easier to find space for within a room. As a general note, you can add a staging cassette to the right end of this design for more cars during an operating session.
While these HO scale track plans for shelf layouts may seem simple and only offers two industries, you can change the buildings or increase the design depth to add more if you have shelf space. You may find some track crowding and remove one of the tracks near the manufacturing company.
Progressive Rail Compressed Industrial Park View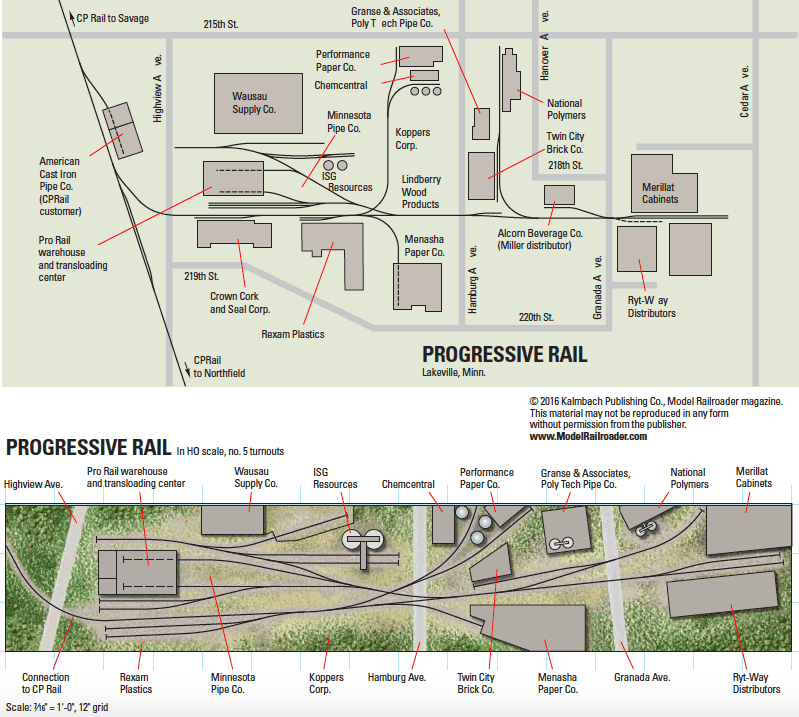 This design takes the look of Airlake Industrial Park in Lakeville, MN during the 1970s and works best as a shelf layout design. This track plan is a good beginners project as it contains different track shapes and scenery without needing an entire room corner.
The Progressive Rail design features many spurs that are fun for operating sessions. This design also features several buildings and tight spaces, so you will need to measure the placements carefully. That is part of the joy of model building.
Amnicola Southern Industrial District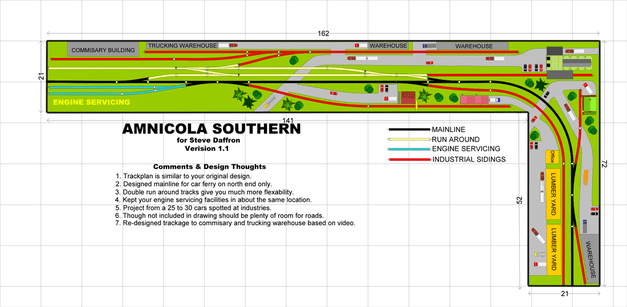 The Amnicola Southern HO scale shelf layout track plan are based on some of the locations Southern Railways ran through in the 1950s to recent times. That means you have options for building styles while you're outing this display together.
You may find the number of tracks in this design a little crowded and want to thin them out. Additionally, this track design is perfect for staging cassettes or a ferry to add more options to your operating sessions. Since this design is more extensive, there is more space for your imagination.
Portable Shelf Switching Track Plan
This portable switching shelf track plan is ideal for small spaces. It comes in three sections, each 4 feet long. You can easily place it on a narrow shelf or take it along at your convenience. In addition, the lap siding lets three or four standard-sized trains meet and pass.
This adds an exciting dimension to this seemingly simple model railroad. So give it a try if you have limited space and want to see multiple trains interact. This track plan is also incredibly customizable, and you can use it as part of a more extensive model railroad.
4×8 Switching Shelf Layout Track Plan
This shelf track plan adds an interesting twist to the original "Switchman's nightmare." It's perfect if you want something that's more challenging than the traditional HO 4×8 track plan but takes the same amount of space.
Customizing this layout can be really enjoyable. You can display A, B, and C structures as individual industries or make them part of a larger facility. The D and E structures can be fascia flats or part of an industry with F as well. There's also a switch lead and engine lead along with an interchange yard. One of the best features of this track plan is the double-sided backdrop and engine services storage area.
It's fun to watch multiple freight cars navigate through this complex switching layout. You can also use this track plan as part of a larger model train layout.
HO Shelf Layout Construction
Here's an example of a 10×14 HO scale layout that is a prototype of a model railroad located in Richmond, Virginia from the late 1950's era. Given that it's a prototype, it's heavily focused on the realism of the actual setting that takes into account both track, trains and structures.
This particular layout is focused on freight operations and sits within a medium sized yard. The initial layout was a simple switching layout that was built on two 18″ foldable closet doors. The newly expanded layout is also using closet doors as the benchwork.
HO Scale Shelf Foam Base on Door
The image above shows the dual foldable doors along with the backdrop. The base uses a 1″ insulation foam that's glued securely in place. This was installed directly along a wall with secure heavy brackets.
HO Scale Shelf Layout with Backdrop
Here's a snapshot of the full backdrop plus buildings and scenery. You'll notice the extension coming out of the left side. This is where the trackwork was created to extend the layout even further.
HO Scale Shelf Layout Extended Trackwork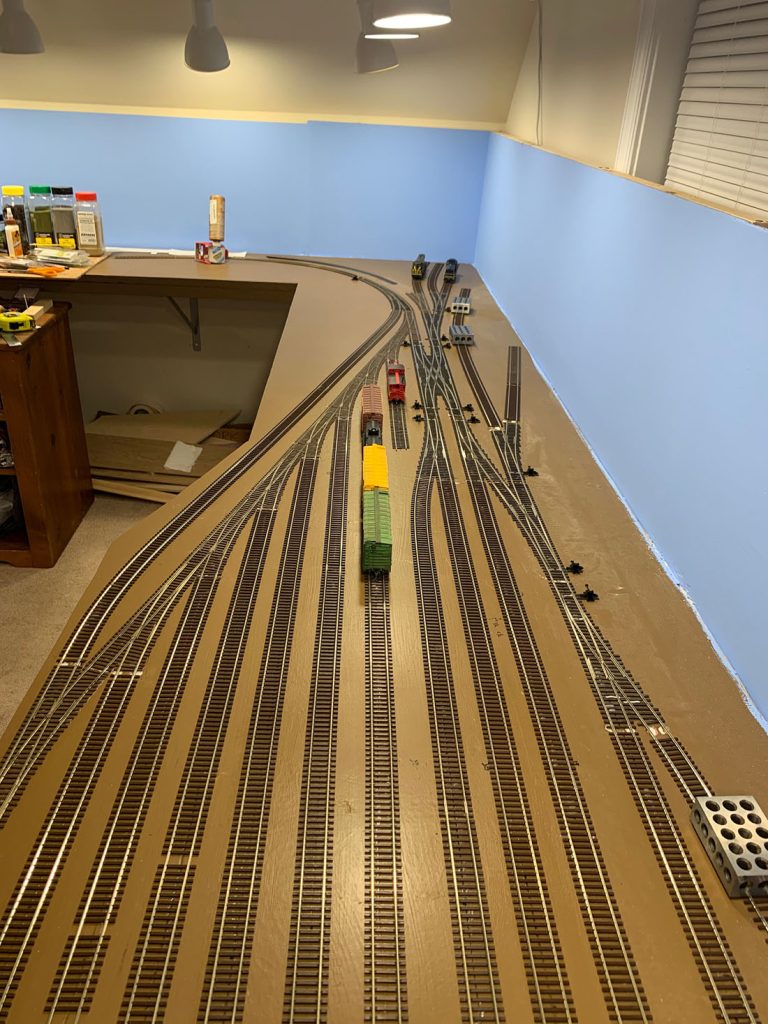 This final shot shows the the extended HO scale track along with some of the trains. The final construction requires substantial trackwork including the addition of ballast to make it look more realistic.
Overall, this HO scale shelf layout started out quite small but has grown over time. The original bi-fold door layout was setup in a way that easily allowed it grow while still appearing very realistic. Building a shelf layout as a collection of smaller modules gives you the opportunity to expand the layout whenever you feel like it.