Building a model railroad is plenty of fun, especially when constructing a layout using 4×8 HO track plans. Although 4×8 track plans tend to take up more space, this type of track plan provides more enjoyment with large areas to add detail and realism.
Choosing the right 4×8 HO track plan is very important and luckily 4×8 track plans come in a variety of layout designs that can help spark ideas. Let's review a shortlist of top-rated HO scale track plans for 4 x 8 dimensions.
Over-Under 4×8 HO Scale Track Plan
If you plan on adding model train scenery such as bridges, mountains, and supports, this is a great train design. The great thing about it is that you can design your track in a number of ways because the space has just increased in size because you have more than one level now.
You can hide portions of your track through tunnels or behind blocks, making it more fun and interesting. Having the right equipment is essential, but this is a design that will keep you entertained for hours. You also find that this gives you much more room for towns and industries allowing trains to go both above and on the ground.
4×8 HO Showcase Oval Layout Design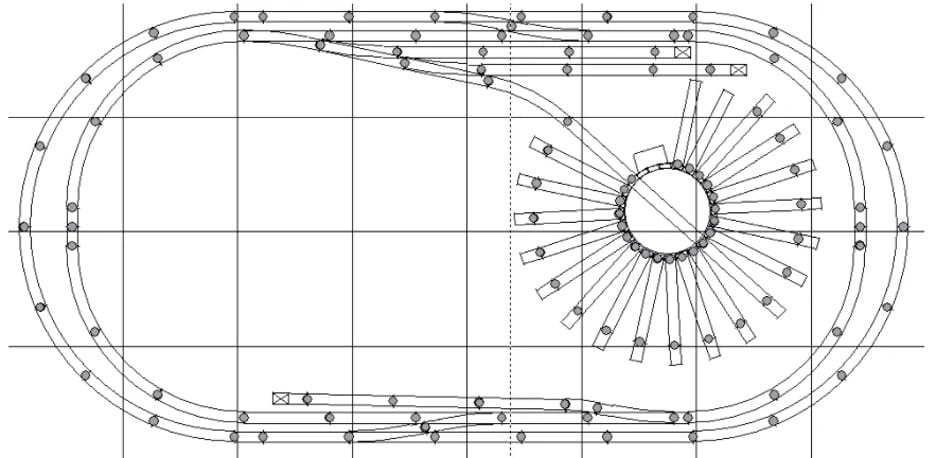 Maybe you are a person who likes the dual track lines for rotating stations where trains can be redirected onto a different track and cars can be added. The HO Showcase requires a lot of switches and a central station where cars can be rotated. You will love the design once you are done, as it creates a spectacular look and takes a lot of ingenuity to make it look perfect.
Figure Eights Track Plan
Sometimes, traditional styles of tracks are the best. Everyone loves the figure eights, and this is a unique one that adds some innovation and tricks to it.
This design allows for you to have stopping stations where trains are either parked or are led to places where they could pick up grain or other materials. You will clearly need at least four switches and a T-shaped track, but if you are into a lot of curves, this is a great one to go with. Plus, this also gives lots of room for buildings and other structures to go alongside track.