4×8 N scale track plans are best if you're planning to grow the layout over time. The main benefit of this track plan size is the flexibility it provides in terms of expanding your layout. If you have the available space, simply adding another 4'x8′ sheet of plywood can double the size of your railroad. The ability to expand provides endless possibilities as your model railroad evolves.
The model railroad track plans come in a variety track types including continuous running, point to point and more complex double track types. The main points to keep in mind when choosing the type of track plan is the level of realism that you're expecting from the layout and the amount of time that you plan on dedicating to the construction and playing with it.
4×8 Union Pacific Yard Track Plan
This N scale 4×8 track plan features a smaller tunnel on the lower portion of the track in order to make the trains more visible. There is an advantage to this: the train will pass through a canyon and a natural river setting. The disadvantage to this is that you won't be able to "hide" the trains.
The trackwork is Atlas Right Track and the dimensions for minimum mainline curves of 18" radius and sidings are 11" radius. The sidings are specifically designed to transfer to another turnout and to incorporate more street tracks. The reverse loop becomes an issue as it might not be suitable for passenger trains.
Traditional 4×8 N Scale Rectangle Track Plan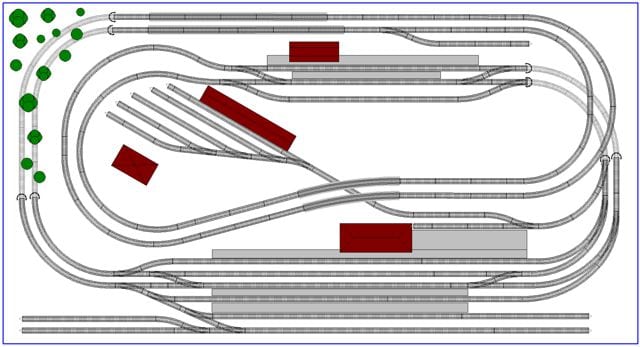 This is the best example of a traditional 4×8 rectangle N layout. It is designed using a Minitrix N-scale track featuring a double mainline that comes with a small branch track. Other key features of this track are the two train stations and one yard. They are all beautifully integrated into this rectangle track that showcases your N scale trains best. It also provides a wide range of possibilities for later expansion of your layout.
Double Track 4×8 N Scale Layout with Yard
This N scale track layout uses a 15"r curve with quite a few turnouts (mostly #5s and #7s). In terms of the grade of this track, the slope isn't too stiff given the required 2-inch clearance.
This layout offers opportunities for future expansion via the upper left or lower right corners. The scenery can be changed too; you can create it based on the location you prefer. For this one, in particular, I used the old west scenery because the shorter cars would make the curves more appealing. The major downsides to this layout are the modest yard and shorter passing sidings. However, these can be remedied by setting the time frame back.