A shelf layout is the layout of choice for model railroad enthusiasts who want to create realistic scenery and make their layout come to life. If you are looking for an alternative to the traditional oval and continuous run layouts while enjoying the process of building the elements of your O gauge layout, you have come to the right place.
You will find examples of the 2 Rail O Scale Shelf Layout and O Scale Self Switching Layouts in this guide. Whether you're looking to create an overhead or wall layout, you will have enough ideas to for your dream O scale train layouts build.
Top Rated Track Plans for
Model Train Beginners
Including continuous running loop to loop, oval, figure eight and dog bone track plans
2 Rail O Scale Shelf Layout
This 2 rail O scale shelf layout features winter scenery in the western US during the 50s or 60s era. Despite being small in size, the level of detail is impressive. The rocks and the textures add to the realism of this layout. The 2-rail system enables you to run two model trains simultaneously, which more than makes up for the shorter runs on the track. This layout is built on a benchwork using 2×2″ legs and a 1×3″ cross.
O Scale Locomotives for Shelf Layouts
O scale locomotives are one of the most sought-after model railroad sizes. The O scale shelf layouts work perfectly for these model locomotives giving you more use for your model train collection.
For this layout idea, the steam engine locomotives are the perfect choice as it fits into the model scenery and era depicted. In particular, this layout is set in the Rio Grande with plenty of mountains, trestles, and western-inspired buildings.
O Scale Shelf Switching Layout
Whether you plan on running one or two trains on this layout, the O scale shelf switching layout is a great build concept. This one in particular features a 12 x 12″ off-the-shelf Atlas track and turnouts. This layout perfectly demonstrates how the perception of small layouts such as O scale shelf layouts has changed over the years. The shunting layouts are now a popular choice within the model railroading community.
O Gauge Ceiling Train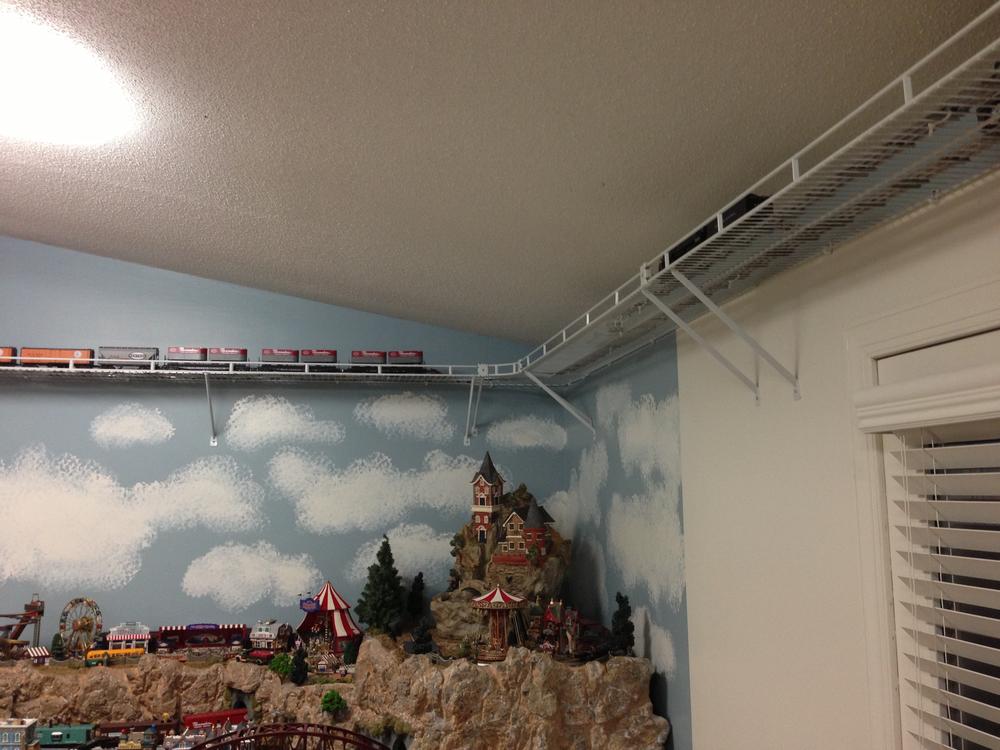 If you have limited working space available, this O gauge ceiling train layout is a fantastic idea. It makes use of vertical space and is a true-blue O scale shelf layout that you can try no matter how small your working area might be. A ceiling shelf layout is a fail-safe way of building your model railroad and must be hand-crafted using the right tools as it will be suspended on the ceiling.
This layout idea uses upside-down wire shelving that is easy to install and cheap. It also makes the train more visible when viewed from an upward angle.
Around the Room O Scale Layout
On the flip side, if you have a dedicated space for your model railroad, the around-the-room O scale layout is ideal. It's not about the size of the layout but rather making the most of that space you have to maximize the layout schematics and create efficient layout shapes. The O scale layout is the right size for around the room train layout so your model trains can sit back and enjoy as your train runs the entire length of the track.
00 Gauge Shelf Layout
This 009 shelf layout is an excellent source of inspiration for anyone looking to get started with O scale shelf layouts. The original base for this layout measures 4 feet x 8 inches until the creator added 17 more inches to both ends of the layout Another siding was added, meaning the width has 3 more inches to it. The mini trains that run on this track were inspired by World War I locomotives that used to carry ammunition. However, the scenery requires a bit more detail in terms of foliage and back scene to make it come to life.